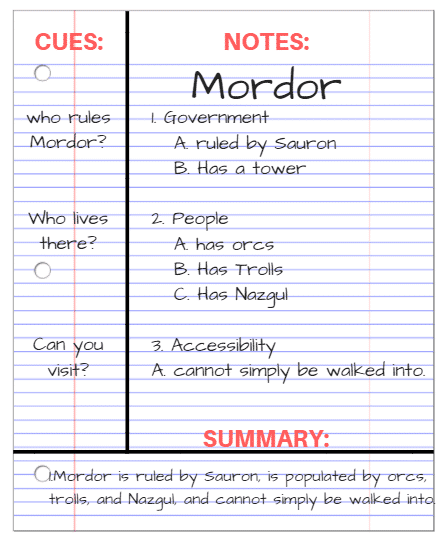 How to Take Better Notes: The 6 Best Note-Taking Systems
Heading off to college is kind of like leveling up in a video game. In high school, the tests and courses were smaller bosses that you could take down with low-level equipment. Now that you're in college, you're going to need to upgrade some of those items you're taking with you if you want to succeed. This is a whole new adventure, my dude.
One of the tools you have at your disposal is your notes. Maybe in high school you were pretty good at taking notes, and now you just need to upgrade them a little bit. Maybe you're feeling like I did in college, and you've realized you've never properly learned how to take notes.
Never fear! Your guide to taking awesome, effective notes is finally here. Your days of looking back at what you scribbled down in class and trying to decipher useful information from them before a test are over.
In this guide, we'll talk about how to prepare yourself to take good notes in class, introduce some popular techniques for taking notes, and cover the best ways to get the most out of your notes after class.
Before you even think about heading to class, make sure that you've read (or at least skimmed) all pre-assigned reading from your professor. Even if you don't have assigned reading, try and familiarize yourself with the topic before you get to class so you know what to expect.
A 2004 study by Spies and Wilkin found that the law students who were responsible for reading a legal case before they got to class displayed a greater understanding of the learning materials than students who were not expected to prepare before class.
Also, don't forget to pack all the things you need to learn effectively. Make sure you have multiple pencils (or some backup lead), a notebook, pens, highlighters, sticky notes, your textbook, and your laptop.
Don't forget water! It's tempting to bring coffee or some other form of caffeine to class. Try to stick to water and consume caffeine intelligently. While coffee doesn't dehydrate you, and coffee in moderation certainly helps you focus and stay alert, caffeine dependency interferes with your quality of sleep and impairs mental function, ultimately impacting your ability to pay attention during class.
Apples and peanut butter, crackers and cheese, or even certain power bars are good options. These snacks will leave you feeling full for longer, ensuring that you won't be distracted by how much you want a burrito in the middle of your professor's lecture about the structure of a cell.
Develop a System
For example, don't wait until the lecture starts to get your orienting information (date, class, topic, etc.) down. Take some time before the week begins to set up your notetaking space for the coming week so that when you get to class, you're ready to start taking notes as soon as the lecturer starts.
There's nothing so daunting at exam time as a notebook crammed wall to wall with tiny text that all looks the same. Whether you're handwriting or taking notes digitally, it's important to use space meaningfully.
Write the main points larger than the rest (or use built-in heading levels in OneNote, Word, or wherever you're taking your digital notes). Leave margin space for "rabbit trails" or asides that seem important.
Allow yourself space for a quick illustration or diagram, if that makes sense for your discipline. You can also highlight key terms to draw your attention back to them. (This works just as well digitally as on paper, by the way.)
Use other resources
If you're struggling in a class, it's also helpful to get different perspectives. Websites and blogs cover every academic topic known to man. YouTube likely has hundreds if not thousands of videos on whatever you're having problems with. Khan Academy is an awesome resource with thousands of videos on every subject at every level.
Every school also has some kind of an academic support center. Go there and find out what their resources are for your classes. Do it before you need help so you'll be ready if you do need it. They'll give you the names and contact info for teaching assistants or tutors for any subject.
All of this is yet another reason to talk to your professors. Ask them on the first day of class, "Hey, if I can't figure this out, what other resources on campus and online do you recommend to help me learn the material?" Make a list of those additional resources and use them early and often.
After Class
Class is over. You think you took great notes and you understood everything, but you aren't done yet. Do a couple of things right away while that last class is still fresh in your mind. Make sure you close up any loose ends before you move on to something else. In fact, stay right there in that empty classroom if you can. Why waste time walking somewhere else?
Review notes IMMEDIATELY
The time to review notes is immediately after you've taken them. You were writing frantically. Lots of new concepts. Lots of abbreviations and shorthand. While everything's still fresh in your mind, scan through your notes. It's hard to decipher your hieroglyphs a week after class.
Back It Up
I know this may sound anal, but after each class, open up your notebook and take a photo of each page with your cell phone. It takes only a few seconds, and the risk of loss far outweighs the effort.
Wrap It Up
By that I mean, you took great notes thanks to the Cornell method. You completely understand everything. You've reviewed and clarified your notes to make sure they're complete and any shorthand is clear. You've written the test questions while the material is fresh in your mind.
Source:
https://collegeinfogeek.com/how-to-take-notes-in-college/
https://post.edu/blog/preventing-information-overload-note-taking-tips-students/
https://shovelapp.io/how-to-get-good-grades/note-taking-strategies/